/
/
Olympic and Paralympic Games 2016 Brazil Olympic and Par...
Olympic and Paralympic Games 2016 Brazil
The Olympic Games will run from 5 to 21 August 2016, with the Paralympic Games running from 7 to 18 September 2016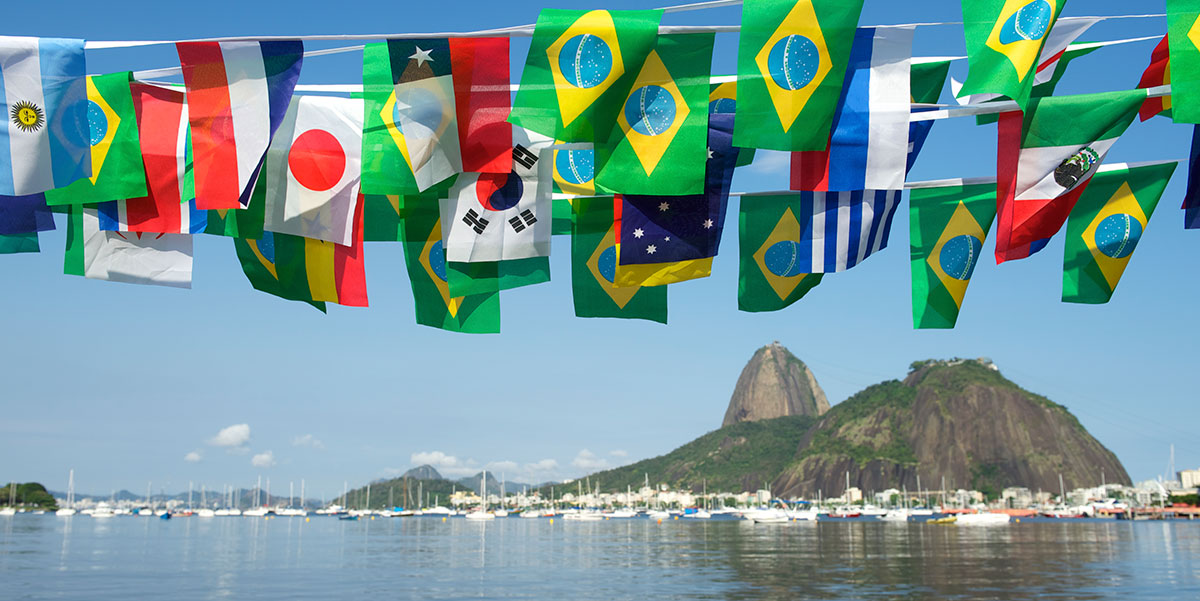 Anticipation is building for the 2016 Olympic and Paralympic Games, which are being hosted this year by Brazil.
The Games will be based in the city of Rio de Janeiro, but events will also be held at other Olympic sites, including Brasilia, Belo Horizonte, São Paulo and the Amazon city of Manaus.
The Olympic Games will run from 5 to 21 August 2016, with the Paralympic Games running from 7 to 18 September 2016 [1].
More information is available on the Government of Brazil's official Olympic and Paralympic Games website.

Key Messages
If you are pregnant you should postpone non-essential travel to Brazil or any areas with current active Zika transmission until after pregnancy.
Sun sense – remember to take care, as the sun will be much hotter.
Take responsibility for your alcohol intake and follow safer sex recommendations.
Vigilance about safety and personal security is paramount.
Before travel
Brazil has a tropical climate, with a wet and hot summer and a relatively dry and cool winter. This means that mosquitoes, including the Aedes aegypti mosquitoes that carry dengue and Zika, are active throughout the year, so vigilance about insect bite avoidance is recommended.
However, as the Games will take place during the winter season, the cooler, drier weather in the city of Rio de Janeiro may reduce the number mosquitoes. This will significantly lower, but not remove, the risk of mosquito-borne infections, such as Zika virus, dengue and chikungunya for visitors.
Amazon areas, including the city of Manaus where some football matches will be held, are hot and humid all year round, so will remain significant risk regions for mosquito-borne infections.
Research current health risks and vaccine recommendations on our Brazil Country Pages and familiarise yourselves with the Foreign and Commonwealth Office (FCO) safety and security advice for Brazil.
Insect spread diseases
As diseases spread by insect bites, such as dengue, malaria, yellow fever and Zika, are present in parts of Brazil, careful insect bite avoidance is recommended for all travellers. For some diseases, like Zika and dengue, there is no preventive drug or vaccine, so avoiding mosquito bites is the only way to try and prevent infection.
If you are pregnant and planning to travel, you should postpone non-essential travel to areas with current active Zika transmission until after pregnancy. In the event that travel to an area with active Zika transmission cannot be postponed, make sure you are fully aware of the risks Zika may present.
In addition, you should be scrupulous with mosquito bite avoidance measures both during daytime and night time hours (but especially during mid-morning and late afternoon to dusk, when the mosquito is most active).
If you are planning pregnancy, or at risk of getting pregnant, you and your partner should discuss your travel plans carefully with your healthcare provider.
Vaccinations and malaria
Get travel health advice from your GP, practice nurse, pharmacist or travel clinic at least four to six weeks before you go. This gives you the opportunity to get detailed information on current health risks in Brazil, advice on vaccinations and antimalarial tablets, and gives you enough time to complete any recommended vaccine courses.
Even if you are travelling at short notice, still get advice: most vaccines can be given at short notice and antimalarial tablets, if needed, can be started just before travel, including on the day of travel.
As well as ensuring you have any recommended travel vaccines, you should check that all your UK scheduled vaccines are in date.
If you are at increased risk of an infectious disease due to your work, lifestyle or an underlying health problem [2] you should be up to date with additional recommended vaccines. This includes vaccination against influenza (as the Olympics are taking place at the peak of the influenza season in South America. As the 2016 southern hemisphere seasonal flu vaccine is not routinely available in the UK, if you are in a clinical risk group that should receive influenza vaccine you should consult your healthcare provider for further advice.
If you are planning to attend any of the football matches, antimalarial tablets and yellow fever vaccine may be recommended – some of the football games are outside the city of Rio de Janeiro, including in Belo Horizonte, the capital city Brasilia and the Amazon city of Manaus.
Malaria is a serious, potentially fatal illness spread by night-biting mosquitoes. Whilst it is not usually a risk in the city of Rio de Janeiro, if you are planning to visit other areas of Brazil and/or any other South American countries, you may need antimalarial tablets.
Yellow fever is a serious, potentially fatal illness spread by day-biting mosquitoes and is a risk in many parts of Brazil, although the city of Rio de Janeiro is not currently considered to be in the risk region.
Check our Brazil malaria and yellow fever maps to see where antimalarial tablets or yellow fever vaccine are recommended.
Remember – yellow fever vaccine is only available from designated yellow fever vaccination centres.
First aid kits
Consider carrying a first aid kit containing items like: basic pain killers, gauze, antiseptic, non-stick wound dressings, tape, plasters, tweezers and a thermometer. Other useful items include sun screen, insect repellent, diarrhoea treatment medication, oral rehydration powders and condoms.
If you are planning to travel to remote areas, you may want to take a sterile medical kit, with gloves, IV giving sets, needles and syringes and other basic medical equipment. This for emergency use only, by a local nurse or doctor, when sterile equipment is unavailable. You can buy these kits from travel clinics and larger chemists in the UK.
Insurance
Brazil and the UK have no reciprocal health care agreement [3], so you need comprehensive medical insurance (including cover for medical evacuation costs). Remember to tell your insurance company about any pre-existing conditions, medical history and medication.
Medicines
If you are taking regular medicines, take a good supply with you, as they may not be available locally. Counterfeit drugs can also be an issue, so it is always better to travel with your own supplies. Rules for carrying personal medication vary and can change, so check with the Brazilian Embassy before you travel.
During travel
Avoid insect bites
All travellers should follow good insect bite avoidance day and night:
Use insect repellents
Cover up
Sleep under an intact mosquito net if not in air-conditioned accommodation
If you are travelling outside the city of Rio de Janeiro, check if you need antimalarial tablets, and if you do, take them as advised, remembering to finish the course.
Food and water hygiene
Take care with eating and drinking and follow food and water hygiene precautions, as traveller's diarrhoea can be a problem. Avoid dehydration by drinking plenty of water from a safe source.
You can buy diarrhoea self-treatment medicine from a UK chemist before travel, but make sure you follow the instructions carefully. If you develop bloody diarrhoea, have a fever or cannot keep any fluids down, you need urgent medical help and should not take self-treatment medicines.
Heat and sun protection
Brazil is much hotter than the UK and the sun is much stronger, with higher UV levels [4]. Although the Olympics are taking place in Brazil's winter, and the Paralympics in the spring, Brazil will still be much warmer than the UK, with average maximum temperatures of 24°C in August and September [5].
Use an SPF sunscreen of at least 30 UVA/UVB frequently, wear a hat, sunglasses and protective clothes to protect yourself from sun damage. Seek shade, drink plenty of water and avoid excessive alcohol to avoid heatstroke.
Apply your insect repellent after your sunscreen [6] and remember to reapply regularly, especially after swimming.
Medical care
If you need emergency medical help, dial 192 for an ambulance. Foreigners are entitled to emergency medical treatment in Brazil's public hospitals, but the public health system, especially in big cities, tends to be crowded and may be basic. Private hospitals will not admit you unless proof of ability to pay is provided [4].
Contact your insurance and/or medical assistance company as soon as possible if you are admitted to a clinic or hospital.
The Ministry of Health of Brazil has provided information, guidance and local telephone numbers for tourists who need to access health services during the Olympic and Paralympic Games Rio 2016. All the information is available from their website.
Rabies
Rabies, a fatal illness spread by animals, is reported in Brazil. You are at risk if bitten, scratched, licked on open skin by an animal or if an animal spits in your face.
Any animal, not just wild ones, but pets and domestic animals, can have rabies, so contact with all animals should be avoided. Following an animal bite, scratch or lick, you must thoroughly wash the wound, irrigate it with water and get urgent medical advice.
Safety and security
Brazil has higher levels of crime than the UK, especially in big cities. Follow FCO advice, don't carry large sums of money, keep valuables out of sight, avoid secluded areas and poorly lit places, try not to travel alone and be vigilant at all times [4].
Try to get immediate police and medical assistance if you are the victim of any kind of attack, including sexual assault. The FCO can offer support to British nationals after sexual assault abroad.
Road safety
Brazil has a high road accident rate and in many rural areas road quality may be poor. Avoid driving alone and on unfamiliar and/or rural roads, especially at night. Brazil has a zero tolerance policy on drink driving: anyone drinking and driving is likely to be arrested and prosecuted [4].
Water safety
Never swim after drinking alcohol or taking drugs and remember to check water depth before diving/jumping. Get local advice about currents and tides before swimming in the sea.
A freshwater parasite called schistosomiasis is found in Brazil, so swimming or wading in lakes, rivers or streams is not recommended. Swimming in chlorinated pools and the sea is not a schistosomiasis risk.
Sex, drugs, body piercing and tattoos
Condoms help protect against sexually transmitted infections, including HIV. Bringing a safe supply of condoms and using a new one during every sexual encounter will help reduce your infection risk.
Tattoos and body piercing can increase your risk of blood borne viruses, as unhygienic equipment can pass on HIV, hepatitis B and C. These serious infections can also be spread by injecting illegal drugs.
UK travellers are strongly advised not to engage in any illegal drug use. In Brazil, as with most South American countries, the legal penalties are severe [4].
After travel
If you have any symptoms, such as fever, flu-like illness, or persistent diarrhoea, get immediate medical advice. Remember to tell your doctor you have travelled to South America.
If you have been to malaria risk areas, an urgent malaria test must be arranged. This is important, even if you completed your antimalarial tablets and have been home for a while.
If you had unprotected sex or are concerned about sexually transmitted infections, including HIV, get confidential advice from a sexual health clinic as soon as possible.
Glossary
| | |
| --- | --- |
| cVDPV | circulating vaccine-derived polioviruses |
| · Td/IPV | · tetanus, low dose diphtheria and inactivated polio vaccine |
| dTaP/IPV | · low dose diphtheria, tetanus, acellular pertussis (whooping cough) and inactivated polio vaccine |
| · DTaP/IPV | diphtheria, tetanus, acellular pertussis (whooping cough) and inactivated polio vaccine |
| · DTaP/IPV/Hib | diphtheria, tetanus, acellular pertussis (whooping cough) inactivated polio and Haemophilus influenzae type b vaccine |
| GPEI | global polio eradication initiative |
| IPV | inactivated polio vaccine |
| OPV | oral polio vaccine |
| PHEIC | public health emergency of international concern |
| WHO | World Health Organization |
First Published : 23 May 2016
Last Updated : &nbsp29 Nov 2016
Back to Top
Preparing for healthy travel
All
Special risk travel/traveller
All