/
/
Travel Insurance Travel Insuranc
Travel Insurance
Guidance for health professionals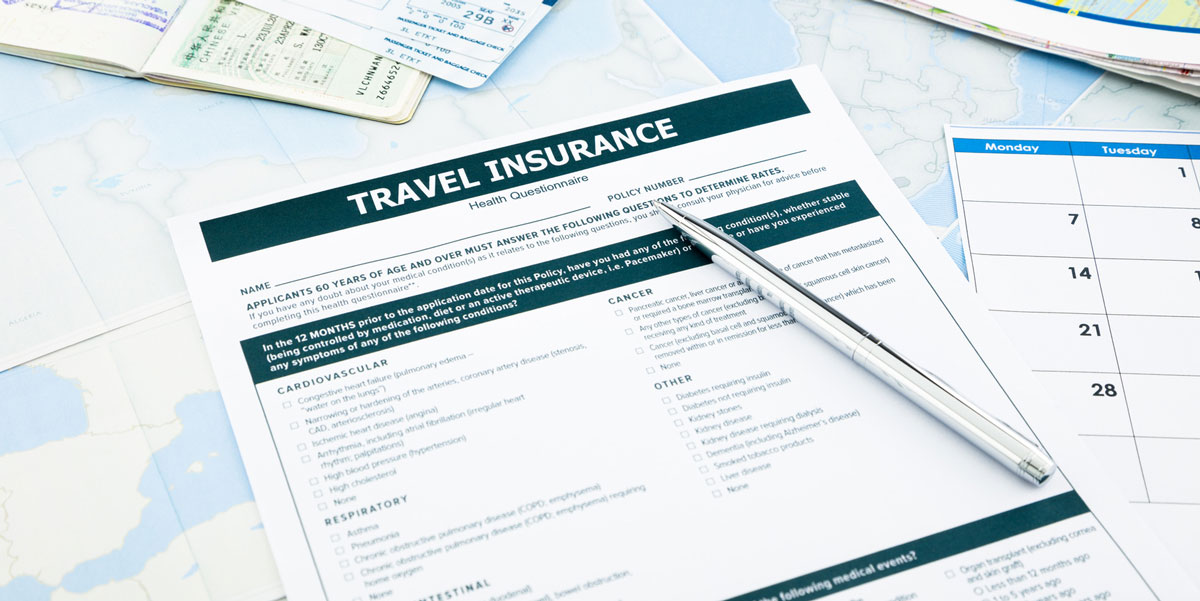 Travellers must declare medical conditions when taking out travel insurance to ensure they are suitably covered.
To help enable this and travel safely, the Association of British Insurers (ABI) has partnered with the National Travel Health Network and Centre (NaTHNaC) to produce the guidance for medical practitioners.
Help patients to travel safely
Risks
1. When advising patients planning trips or holidays, medical practitioners should assess their risks, taking into account the following issues:
A risk assessment to determine if it is advisable for the individual to travel. This should consider their medical history, any medication or treatment, potential hazards at their destination and any activities they may undertake while travelling. For example:
Is a long-haul flight or any planned strenuous activity (hiking, for example) suitable given any medical condition they may have?
Are any geographical or environmental risks (for example, holidaying at altitude or in high/low temperatures) likely to have an adverse impact on an individual's medical condition?
Condition, symptoms & medication
2. Does the individual know the medical terminology for any condition they currently have, or have had in the past, and are they aware of potential symptoms? Do they know the name of any prescribed medication they are taking and understand what it is being taken for?
Do they have enough medication for the duration of their trip and to cover any delays?
Does the individual require a list of their condition(s) and any prescribed medication?
– So they can declare this accurately to their insurer before they travel.
– So they can inform any doctors or nurses, should they require emergency medical treatment overseas.
Medical investigations
3. Is the individual waiting for, or in the process of having, any medical investigations?
Do they know what the required tests are for and what they involve?
Are they awaiting results or is treatment or surgery planned?
Will there be any travel implications?
Vaccinations or medication
4. Does the individual require any vaccinations or medication (for example antimalarial tablets) for their chosen destination(s)?
Recommended vaccinations and medications (such as antimalarial tablets) may be advised by their doctor, nurse or other health professional, in line with national recommendations (such as those provided by NaTHNaC and Public Health England).
For a travel insurance policy to be valid, insurers may require that reasonable health precautions are taken as recommended; travellers should be advised to carefully scrutinize inclusion and exclusion clauses in their travel insurance policy.
Medical practitioners: further information
Medical practitioners advising travellers with complex medical needs can ring NaTHNaC's Advice line for health professionals for further information:
Telephone: +44 (0)845 602 6712 (local call rate)
Mornings:
Monday to Friday 09:00 – 11:00
Afternoons:
Mondays and Fridays 13:00 – 14:00
Tuesdays, Wednesdays and Thursdays 13:00 – 15:30
This is a service for health professionals only – NaTHNaC are unable to speak directly to the public.
Travel Insurance: key points
The main purpose of travel insurance is to cover individuals for the potentially high cost of medical treatment and repatriation, if they are injured or fall ill abroad. Healthcare is not free in most countries.
While each case is considered on its individual merits by an insurer, travellers will not usually be covered by their travel insurance policy if they travel against the advice of a doctor or medical practitioner.
If declared fit to travel, individuals must still declare any medical conditions; if they are taking any medication; and/or are undergoing any treatment, as asked when taking out a travel insurance policy. Failure to do so can result in the insurer not covering the cost of any related medical treatment while abroad.
Travelling in Europe - the European Health Insurance Card (EHIC)
The EHIC is available to all UK residents and allows travellers to receive necessary, urgent state provided care from public hospitals in all European Economic Area (EEA) countries and Switzerland. An EHIC enables UK residents to access the state provided urgent care that residents of the destination country are entitled to. This will typically be at a reduced cost (or sometimes free). Each individual, including babies and children, must have their own EHIC. In some parts of the EEA state-provided healthcare may not be available.
An EHIC is not an alternative to travel insurance, so it is important travellers have both. Public hospitals may still charge for medical treatment and the EHIC will not cover any private medical healthcare. In addition, the EHIC does not help cover costs such as mountain rescue, being flown back to the UK, or lost or stolen property.
Individuals can apply for a free EHIC in the following ways. Beware of unofficial websites, which may charge if individuals apply through them.
The UK will leave the European Union on 31 October 2019. The European Health Insurance Card (EHIC) issued by the UK, will still be valid until the UK leaves the EU or where treatment, in a country where EHIC is recognised, started before exit day.
The European Health Insurance Card (EHIC) may not be valid if there's a no-deal Brexit. This will depend on arrangements with individual countries; treatment may need to be paid for in full.
You should prepare for possible changes to your access to healthcare when the UK leaves the EU if you're a UK national travelling to the EU, Norway, Iceland, Liechtenstein or Switzerland.
Check guidance for the country to be visited: Travelling and living abroad: Guides to healthcare in other countries inside and outside the European Economic Area (EEA).
First Published : 25 Nov 2015
Last Updated : &nbsp17 Sep 2019
Back to Top
Preparing for healthy travel
All
Special risk travel/traveller
All