/
/
Marburg virus disease Marburg virus d...
15 Nov 2017
Marburg virus disease
An update on the outbreak of Marburg virus disease in Uganda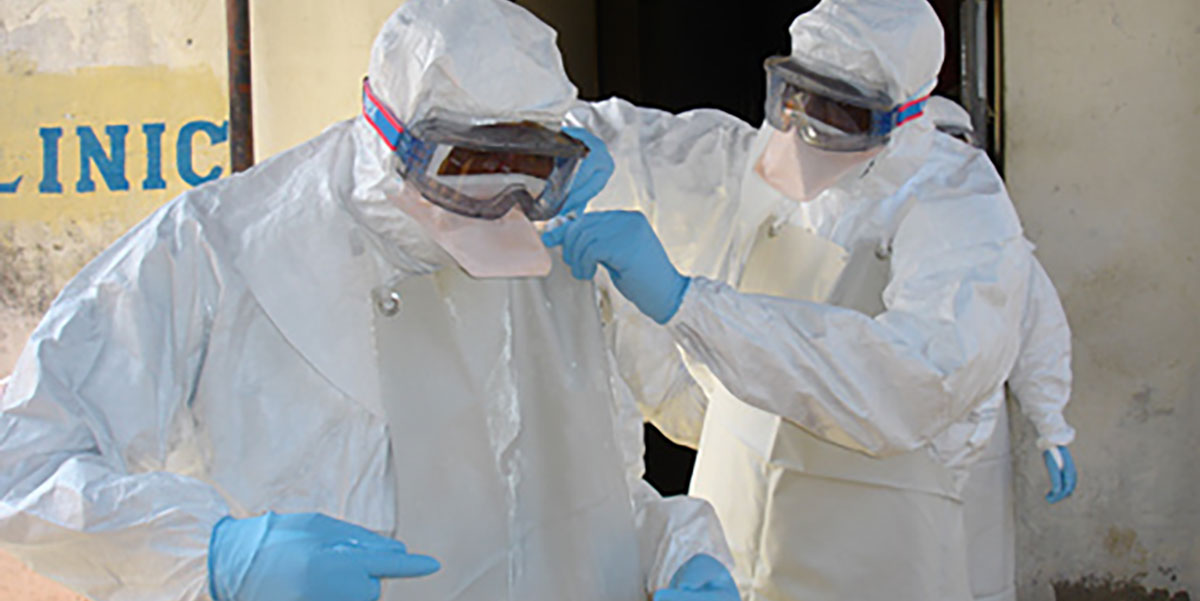 On the 17 October 2017, the Ugandan Ministry of Health informed WHO of an outbreak of Marburg virus disease in Kween District, Uganda [1]. Initially five cases were reported on 24 October, one confirmed case, one probable case with an epidemiological link to the confirmed case, and three suspected cases including two health workers [1].
As of 7 November 2017, three cases (two confirmed and one probable) have died. The cases were epidemiologically linked and came from the same family [2].
The second confirmed case travelled to Kenya, prior to his death. Contact tracing and active case finding is ongoing in Kween in Kapchorwa district in Uganda, as well as in Kitale district and West Pokot in Kenya [2].
Country specific information can be found on our Country Information pages and Outbreak Surveillance database.
About Marburg virus disease
Marburg virus is one of 2 viruses belonging to the Filovirus family, it causes a severe and fatal haemorrhagic fever called Marburg virus disease which is clinically difficult to differentiate from Ebola virus disease [3]. Marburg virus affects both humans and non-human primates. Fruit bats are considered the natural host of the virus, and do not to show obvious signs of illness. Humans (and other primates) can become infected with Marburg virus, and symptoms can include high-grade fever, chills, headache and muscle pain. As the disease progresses, symptoms become more severe, with some people experiencing severe bleeding (haemorrhage) and death.
The initial infection in any outbreak occurs through exposure in mines or caves inhabited by fruit bat colonies, and subsequent transmission of virus from person to person requires close contact with an infected patient. Blood or other bodily fluids contain a high concentration of virus, particularly when these fluids contain blood.
Advice for travellers
There is no vaccine for Marburg virus disease. If you are travelling to affected areas:
Pay careful attention to personal hygiene
If visiting caves avoid exposure to bats and wear appropriate protective equipment including gloves and masks.
Avoid close contact with infected patients, particularly with their blood or other bodily fluids (e.g. faeces, vomit, urine, saliva and respiratory secretions). Avoid sexual contact with an infected patient or a person recovering from Marburg virus disease, the virus can persist for an extended period of time in the semen of infected males and possibly vaginal secretions of infected females.
Avoid contaminated injection equipment or needles and personal belongings that may have been contaminated with body fluids of people with Marburg virus disease or other unknown illnesses.
Avoid close contact with or handling of animals (live or dead).
Avoid handling raw or undercooked meat.
Avoid consuming any bush meat (meat from animals caught in the wild).
Advice for health professionals
The risk of acquiring Marburg virus disease is very low for UK travellers [3]. Those at increased risk include those engaging in animal research, healthcare workers, and others providing care for patients in the community without adequate personal protection, particularly where outbreaks are occurring [3].
For healthcare workers a further guidance is available from the Advisory Committee on Dangerous Pathogens. [4]
Resources
Back to Top