/
/
COVID-19: general advice for t... COVID-19: gener...
Download as PDF
18 May 2021
COVID-19: general advice for travellers
Advice for travellers from the UK on travel abroad and reducing spread of respiratory viruses during the COVID-19 outbreak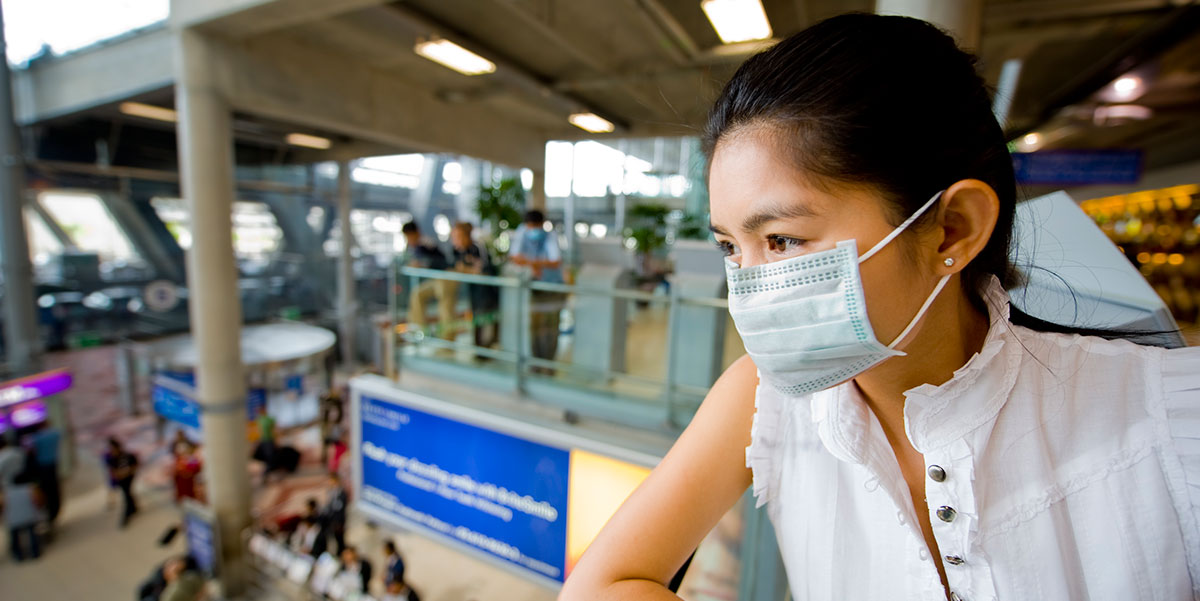 This updates the news item of 14 May 2021
Travel within the United Kingdom (UK) and international travel, has been restricted due to domestic regulations to control the spread of COVID-19.
From 17 May 2021, international leisure travel from England is no longer illegal, but strict border controls remain in place. Different rules apply for those arriving in Wales, Scotland, and Northern Ireland.
A new "traffic light" system, setting out different testing and self-isolation requirements for people entering England came into force on 17 May 2021 [1]. Countries are rated as red, amber or green. All travellers (including returning UK residents) entering England must follow the rules relating to countries they visited prior to arrival in England, even if they are fully vaccinated [2].
Restarting international leisure travel while maintaining border health checks means waiting times at border control are likely to be longer. Travellers arriving in England from any destination still need to fill out a passenger locator form and show proof of a negative pre-departure COVID-19 test result. Some people are exempt from some or all of the requirements because of the job they do or medical/compassionate reasons.
Countries can be moved between the red, amber and green lists if COVID-19 conditions change. Travellers can sign up for email alerts to be notified of updated to the lists.
Travel disruption is occurring worldwide as national control measures such as border closures, movement restrictions or quarantine rules are introduced with limited notice [3]. Travellers should be prepared to stay overseas longer than planned.
Different national restrictions may also be in place in England, Scotland, Wales and Northern Ireland. Travellers must follow the rules that apply to them.
People at higher risk from COVID-19 particularly those who are clinically extremely vulnerable [4], are at greater risk of severe illness and should continue to be vigilant regarding social distancing and hand washing. Those who are in this group should check the advice in the UK nation they live in: England, Scotland, Wales or Northern Ireland.
Current evidence also shows that there is a higher risk of infection and of severe disease in Black, Asian and Minority Ethnic (BAME) groups in the UK, but reasons for this are currently not clear [5].
Advice for travellers
Preparations before travelling internationally
The UK government has published a guide: Travel abroad: step by step; this explains all the requirements to help UK residents plan safe international travel and the passenger COVID charter; this gives information and guidance on your rights, responsibilities and reasonable expectations regarding international travel whilst COVID-19 measures remain in place.
If you are planning to travel, consider the following guidance to prepare for your trip and reduce your risk of COVID-19:
Keep up to date with the latest official advice offered by the country you are departing from and travelling to. The pandemic has led to unprecedented international border closures and other restrictions. All countries may impose travel restrictions without notice.


The Foreign, Commonwealth & Development Office (FCDO) provides guidance on COVID and non-COVID risks overseas. Check FCDO travel advice for your destination (see summary, health and entry requirements sections) and their general travel guidance regularly, as information may change. It is possible to subscribe to email updates for your destination also.


Check entry restrictions, screening or quarantine requirements on arrival that might affect you. Contact the UK-based embassy of the country you are travelling to if you need more information. Be aware that there may be enhanced screening/monitoring at entry and exit ports. In some countries, borders may close or you may be required to self-isolate for a set period, even if you do not have symptoms.


Check up to date travel health recommendations on our Country Information pages. All countries have been classified as high, moderate or low risk of exposure to COVID-19 based on currently available information assessed by Public Health England and the National Travel Health Network and Centre. If you require further advice, speak to your GP, practice nurse, pharmacist or travel clinic.


Check the impact COVID-19 may have on your travel insurance coverage, including medical repatriation costs in case of ill health or any new restrictions on travel. If you are required to quarantine or self-isolate, you should expect to do so in the country you are in. Your travel insurance may be compromised if you extend your trip abroad or if you have travelled abroad against UK Government advice. The Association of British Insurers (ABI) has produced information on travel insurance implications following the outbreak.


Plan ahead for any possible delays to your return home and the financial implications or practical arrangements you may need to make.


Ensure you have extra supplies of any medication or medical equipment you need. Remember to carry copies of prescriptions and carry medication in your hand luggage.


Contact your airline, tour operator, cruise line or other transport and accommodation providers for up-to-date information on your itinerary and travel plans. Other useful resources may include International Air Travel Association (IATA) and Cruise Lines International Association (CLIA). However, please note that as of 26 April 2021, due to the ongoing COVID-19 pandemic, the FCDO continues to advise British nationals against cruise ship travel at this time. Ask about physical distancing and other measures in place to reduce or limit physical contact with potentially infected passengers. Guidance for measures that are recommended aboard aircraft has been published [6, 7].


If you are at higher risk of severe COVID-19 infection, particularly if you are considered extremely clinically vulnerable to COVID-19, you should follow the current UK recommendations to reduce the risk of infection and consider postponing travel.


Face coverings are now required when travelling on public transport in the UK and may be required in other countries. Face coverings do not replace social distancing and hygiene measures; you still need to take all the other recommended precautions.


Know in advance the entry requirements for your return to the UK: read and follow the guidance on entering the UK.


COVID-19 vaccines are currently in use in the UK. The NHS will contact individuals to let them know when it is their turn to have the vaccine.
From 17 May 2021, UK residents in England who have received a full COVID-19 vaccine course can access their COVID-19 vaccination status through the NHS App.
COVID-19 testing and travel
Some countries may require proof of recent COVID-19 testing for entry (or require you to take one or more tests when you arrive in the country). To be clear what type of test is required, check the Foreign, Commonwealth & Development Office (FCDO) foreign travel advice (see the summary, health and entry requirements sections) and contact the UK-based embassy of the country you are travelling to if you need more information.


You cannot use the NHS test and trace service to get a test for international travel purposes.


Testing before you leave the UK for international travel is only available as a private service with private providers e.g. some private GP services, travel clinics or other private testing services. If you are travelling for work purposes, you should discuss options for testing with your employer.


When arranging a test, you should check the requirements of the country you are travelling to and consider the time it will take to process your test and get your result. A charge is usually made for testing and any paperwork issued privately.


You should ensure that testing is carried out by a laboratory accredited by the United Kingdom Accredited Service (UKAS).


The type of test that is usually required is a swab PCR test (a home test kit may be supplied). This test can pick up the genetic material of the virus on the swab and can tell you if you had COVID-19 infection at the time the swab was taken.


All international arrivals into England are required to present a negative COVID-19 test taken up to 72 hours before departure. Further details, including the information that the test must include and those travellers exempt from testing, may be found here: UK Coronavirus (COVID-19) testing for people travelling to England.


As of 17 May 2021, if you are arriving in England and have been to a country or territory on the:
Air travel
Air quality on board aircraft is carefully controlled, changed very frequently and passed through filters efficient at removing viruses. Research has shown that there is little risk of any communicable disease being transmitted on board an aircraft [8]. IATA research published October 2020 indicates that so far, only a small number of cases (44) have been associated with a flight journey (inclusive of confirmed, probable and potential cases) during which time 1.2 billion passengers travelled [9]. However, there is definitive evidence of in-flight transmission of COVID-19 [10], the addition of mask-wearing on a flight appears to add an extra layer of protection [11].
If you are planning air travel, the following advice should be considered:
Do not travel on an aircraft if you are unwell. Exit screening may be implemented and you may be denied boarding if you have symptoms of COVID-19.


Continue to take good hygiene measures (see below) and use the designated toilet for your area of the aircraft, washing your hands before you leave the toilet.


Avoid moving from your seat unnecessarily but do continue to exercise your legs (flex and extend the ankles) as much as possible to encourage blood flow from the lower legs.


If you are unwell on the flight, please stay in your seat and follow any instructions provided during the flight, contacting the air crew as soon as possible.
General advice for preventing the spread of respiratory viruses
Wash your hands often with soap and running water for at least 20 seconds. Use an alcohol-based hand sanitiser that contains at least 60% alcohol if soap and water are not available. This is particularly important after taking public transport or being in a public space.


Avoid touching your eyes, nose, and mouth with unwashed hands.


Avoid close contact with people who are sick.


If you feel unwell, stay at home, do not travel or attend work/school.


Cover your cough or sneeze with a tissue, then throw the tissue in a bin and wash hands with soap and water.


Clean and disinfect frequently touched objects and surfaces in the home and work environment.


If you are unwell with any of the following: a high temperature, new continuous cough or a loss of, or change in, your normal sense of taste or smell (anosmia), you should self-isolate and arrange to have a test, (seek local guidance if you are overseas).
Advice if you have contact with a COVID-19 case while abroad
If you have been in contact with a known COVID-19 case, follow relevant public health advice (if available), and speak to your healthcare provider or travel insurance company as soon as possible for further guidance. If you are required to quarantine or self-isolate by local authorities, you should expect to do so in the country you are in.
Advice if you become unwell abroad
If you develop symptoms of new continuous cough, high temperature or a loss of, or change in, your normal sense of taste or smell (anosmia) while abroad or during travel, you should immediately:
Stay indoors and avoid contact with other people, as you would with the flu.


Call your health provider and/or insurance company to discuss what you should do. Remember that if you have been in a malaria affected area in the last year, it is important to exclude malaria as a cause of high temperature (blood test required).


Follow local public health guidance if available.


If you become unwell at an airport, bus or train station before or during a long trip, seek medical advice and do not start or continue your journey.


If you test positive for COVID-19 while abroad you will need to follow local public health advice regarding self-isolation. You should expect to self-isolate in the country you are in, so you may need to stay longer than planned. Plan ahead for any possible delays to your return home and the entry requirements at your next destination.


Once you have fully recovered, check with your health provider if you are fit to travel, before any onward travel.
Advice if you run out of medication
If your journey home is delayed and you are concerned you may not have enough medicines (including antimalarials) or disposable medical equipment, you should contact your travel health insurance provider for advice about how to get safe medical supplies at your destination.
Other sources of information include:
Please do not wait until your supplies of medication or equipment are very low. In many countries medicines and equipment are not as easily available and the current COVID-19 situation may affect supply chains. See our Medicines and Travel factsheet for further information. This is especially important if you were advised to take malaria prevention tablets (chemoprophylaxis) for your destination. See our Malaria reminder during COVID-19 pandemic for more advice.
Advice for health professionals
During the current COVID-19 pandemic, many individuals may present with a fever. In the returned traveller, some will have other infections including Plasmodium falciparum malaria, which can be fatal if not diagnosed and treated. All individuals being assessed for possible COVID-19 must be asked if they have travelled abroad in the last six months. If they visited a country where malaria occurs, they must have a blood test result for malaria on the same day [12].
Resources
Back to Top