/
/
Food and water hygiene: remind... Food and water ...
Download as PDF
12 May 2022
Food and water hygiene: reminder for travellers to South Asia
Advice for travellers on preventing and managing infections caused by contaminated food and water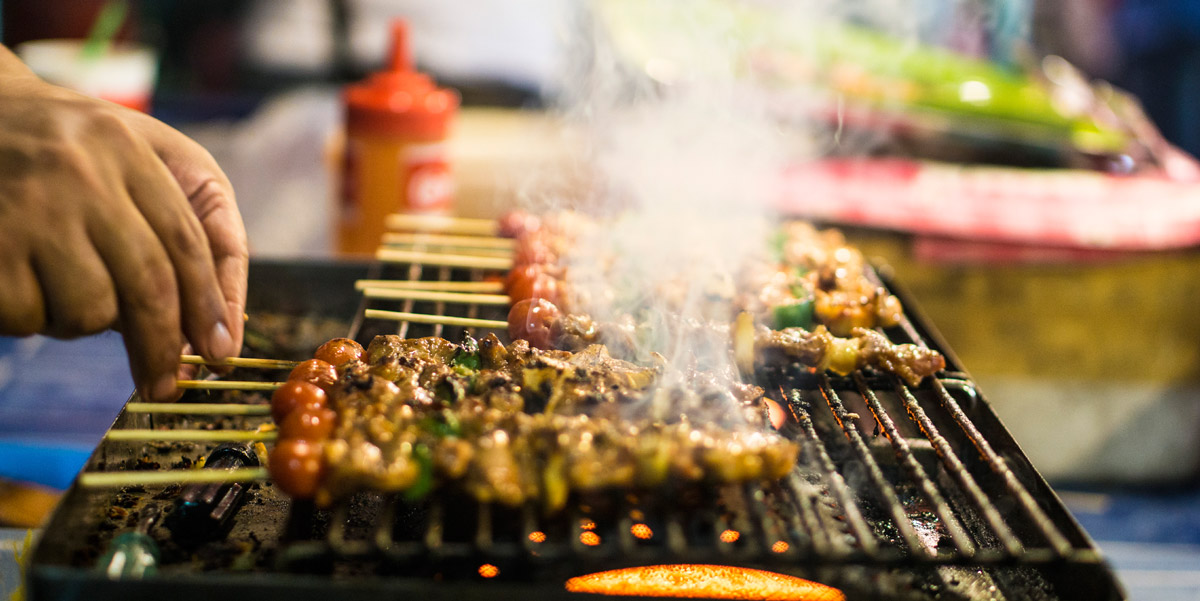 Contaminated food and water can transmit several infectious diseases including diarrhoeal illnesses. Travellers' diarrhoea (TD) is common in those visiting countries in South Asia. South Asian countries include Afghanistan, Bangladesh, Bhutan, India, Iran, Maldives, Nepal, Pakistan and Sri Lanka [1].
Travellers are advised to check the health advice for their destination on the TravelHealthPro Country Information pages and ensure they have adequate health insurance cover for their trip.
Travellers' Diarrhoea
TD can be very unpleasant and causes disruption to travel plans. Occasionally more severe or long-term complications can occur, for example post infectious irritable bowel syndrome may occur in those who have had TD and rarely Guillain-Barre syndrome has also been associated with TD [2].
Unfortunately contaminated food and water is difficult to avoid. It is sensible for travellers to try and reduce their risk by following the general tips below. This is particularly important for those who are more vulnerable to infection due to their age or medical history.
Advice for travellers
Travellers should wash their hands after visiting the toilet, changing nappies and before preparing or eating food. Alcohol gel is helpful when hand-washing facilities are not available.
Drinks served in unopened, factory produced cans or bottles with intact seals such as carbonated drinks, commercially prepared fruit drinks, water and pasteurised drinks generally can be considered safe. Drinks made with boiled water and served steaming hot, such as tea and coffee are usually safe.
Recently prepared, thoroughly cooked food that is served piping hot, fruit that can be peeled by the traveller (such as bananas and oranges), and pasteurised dairy produce such as yoghurts, milk and cheese are also good options for travellers.
Some foods where possible should be avoided as they are prone to being contaminated. These include salads, raw or undercooked meat, fish or shellfish and food left uncovered and exposed to flies.
Drinking tap water or using it to clean teeth should be avoided, unless it has been treated. Ice should also be avoided unless it is known to be from a safe source and handled safely. Water can be disinfected by bringing it to a rolling boil. Other options are available for disinfecting water if boiling is not convenient.
A first aid pack should be carried with items to manage symptoms of TD. Read about the self-treatment of TD and when to seek medical help in our factsheet.
Unfortunately, it is often difficult to follow the food and water hygiene advice, and even with best efforts travellers can still get ill.
Vaccine Preventable Diseases
Some of the diseases transmitted by contaminated food and water in South Asia are vaccine preventable such as cholera, hepatitis A, polio and typhoid. However, travellers should be aware that vaccines do not provide 100% protection so care should still be taken to reduce the risk of food and water illness.
Recommended vaccines for each country are listed on our Country Information pages. Those requiring vaccines should seek advice ideally 4 to 6 weeks before their trip, although last minute appointments are still worthwhile. These vaccines are usually available free on the NHS when they are recommended according to UK Health Security Agency 'Green book' Immunisation against infectious disease guidance.
The risk of cholera for most travellers is low but outbreaks are often reported in South Asia [3-5]. As of 24 March 222, a total of 27,324 suspected cholera cases have been reported in Bangladesh since the start of the year [3]. Vaccination is considered for relief or disaster aid workers, persons with remote itineraries in areas where cholera epidemics are occurring and there is limited access to medical care and for travellers to potential cholera risk areas, for whom vaccination is considered potentially beneficial [5].
Hepatitis A and typhoid vaccines are recommended for many of the countries in South Asia. Pakistan has reported ongoing issues with extensively drug-resistant (XDR) typhoid fever [6]. Extensively drug-resistant infections do not respond to most antibiotics so care with food and water hygiene and vaccination are very important for those visiting this country [7]. Each year confirmed cases of enteric fever (typhoid and paratyphoid) in England Wales and Northern Ireland are analysed. Most imported cases are reported in travellers returning from the Indian subcontinent (particularly Bangladesh, India and Pakistan) [8]. Of these cases, the most common reason for travel is to visit friends and relatives (VFR) [8].
Polio virus remains endemic in Afghanistan and Pakistan [9]. See our Country Information pages for Afghanistan and Pakistan for information about vaccination and any proof of polio vaccine required.
Resources
Back to Top